Summary: The glass curtain wall is a new type of contemporary wall. The biggest feature it gives to the building is to organical...
The
glass curtain wall
is a new type of contemporary wall. The biggest feature it gives to the building is to organically unify the architectural aesthetics, building functions, building energy efficiency and building structure. The building presents different colors from different angles, which follow the sunlight. The changes of moon, moonlight and lighting give people a dynamic beauty. There are magnificent and magnificent glass curtain wall buildings in major cities on all continents, such as the New York World Trade Center, Chicago Petroleum Building, and Sears Tower all using glass curtain walls. The Bank of China Tower in Hong Kong, the Great Wall Hotel in Beijing and the Shanghai Lianyi Building have also been adopted one after another.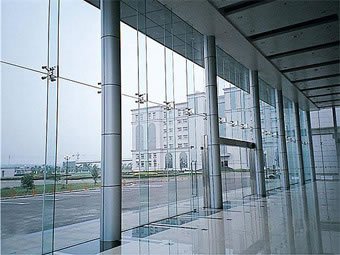 The reflective insulating glass is 6mm thick, and the wall weight is about 50kg/㎡. It has the advantages of light and beautiful, not easy to pollute, and energy saving. The inner side of the outer glass of the curtain wall is coated with a colorful metal coating. From the appearance, the entire outer wall looks like a mirror, reflecting the sky and the surrounding environment. When the light changes, the image is colorful and infinitely changing. Under the reflection of light, the room is not irradiated by strong light, and the vision is soft.
So, how is the glass curtain wall made? The glass curtain wall refers to the mirror glass used as the decoration of the exterior wall of the building. It is made by adding traces of Fe, Ni, Co, Se, etc. The solar radiation entering the room reduces the indoor temperature. It can not only reflect light like a mirror, but also transmit light like glass.